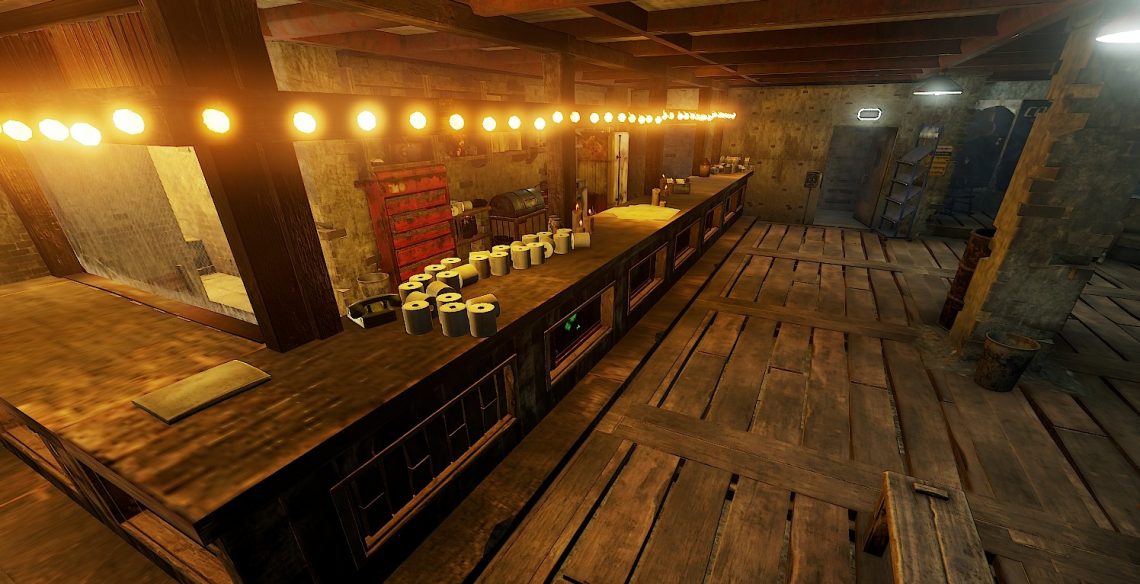 Wipe changelog 19/03/2020
Good evening Wastelanders!
Last two weeks, there were some small adjustments on our side but also some postponed projects over again. Operator has put a lot of time into fixing the Heli plugin yet to find out that it still doesn't want to act the way we wish. I would like to thank really a lot to our testers who help us to try to find the issues this way! It means really a lot to us!
Since the "fix list" was longer than Heli only, we have decided to take a short break from that one and rather look at the stuff that queued in meanwhile.
No spoilers but… yes! The new kit is in for those who asked! 😀
The map starts to become pretty much characteristic for our server. However, Rando always puts lots of time in to bring a few little changes to keep it all fresh. We have found some really nice prefabs which we bought to support also the creator and now you will find a mini puzzle in two monuments! We won't spoil what exactly it is though, otherwise there are no surprises! 🙂
A few things are currently not correctly functional right now due a few last updates that came out in the past days. Rando reacted super quickly to fix anything necessary to make the map ready just on time! 
We have released changes for the Bradley plugin already on the discord, but we feel that it is good to make some little recap here as well. Operator fully rebuilt the plugin and added tons of great features!
The wreck is now also locked to the owner so it's no longer possible that random people mine your bradley
Personal bradzilla is also locked to the caller's team/clanmates
/buc also unlocks the wreck for public
Body and crates no longer burn, you can loot/mine instantly
/bradley shows the amount of kills you did today so it's easier to keep track of it
Added automated Bradzilla event working on the same principle as Heli event
We have noticed a lot of false accusations, fights but also crime again over the past few days. One of the big targets keeps being the Bradley. Even though there are three mad tins driving through the Wasteland, some still feel like it is a reason to camp. We have added a new plugin which will be tracking the crime and giving away "tags of shame". How does this all work?
Plugin tracks players being present in the monument when Bradley spawns.
Anyone being near Bradley will get logged into our logs with a message "CCTV is watching you"
Anyone being logged and doing the top damage within 5 minutes since the spawn will get a strike
[Camper] tag is added after 10 strikes
We hope that this way we can finally fish out, who is fair and who really camps. Please be also aware that this way we might start tracking also Cargo or Oil Rigs and start punishing anyone being greedy! Be fair to yourself and others!
Hobo barrels are a thing now!
We've got a question about the possibility of owning hobo barrels. Thankfully in Operator's vocabulary the word "impossible" doesn't exist! We're super thankful for his mini addition to bring also something nice to the world. You can now place hobo barrels in your base. They are purchasable in the /s in batch of 1 or 5. You shouldn't be able to buy more than 10 but also more importantly, you are NOT allowed to place more than 10 in the whole map per person and 20 per clan/team! They are no physical item (they won't appear in your inventory)! They will be available on your account though.
/hobo – will display all information about commands, how many do you own, have you or your clan placed in total
/hobo_spawn – spawns a barrel on the spot you are looking at
/hobo_remove – removes barrel you are looking at and returns it to your account
How to place barrels easily:
We would love to give a HUGE thank you to everyone who donated during my birthday! You are a super awesome community and we hope that all together with following the rules of our local government we can overcome all the Corona virus crisis.
We are super proud of everyone who decided to do a good thing with us! We didn't expect we would raise that much but with some addition of course also from our side, we have just now transferred €150 to the WHO (World Health Organization). We hope that even this will help someone to get a little bit of the protective materials or do at least a few tests for the patients. We hope to get some official confirmations (besides the "thank you" e-mail) so that we can display it for all of you either here or on our Discord. 🙂
Please, take care of yourself and your beloved ones, be careful and stay healthy! <3
Thank you all for being around! Have fun and see you all in the naked world 🙂
PS. Don't be afraid that there would be a toilet paper crisis in the Wasteland! We promise, that there is enough for everyone! 🙂