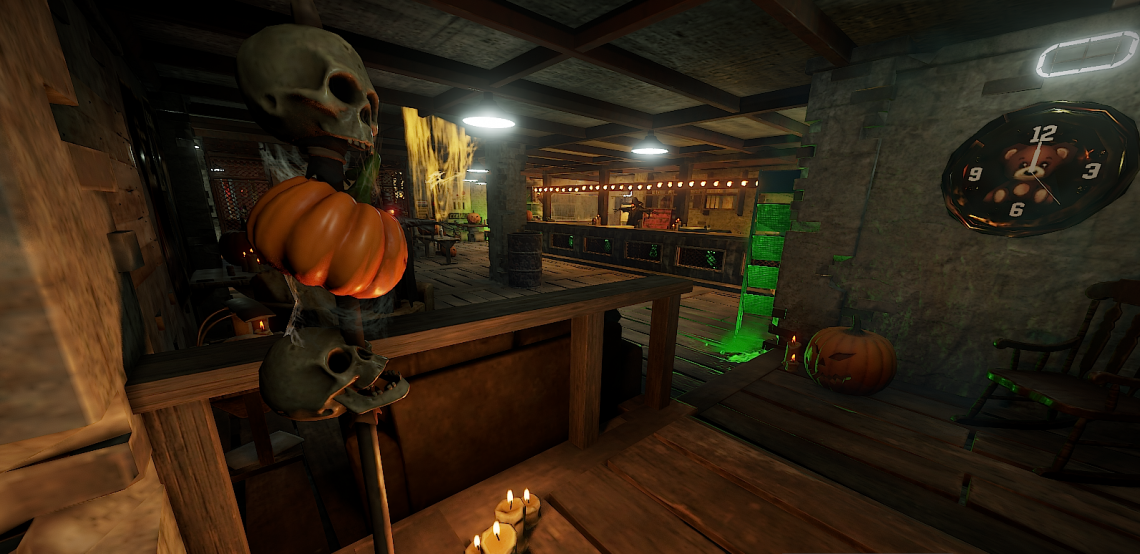 Wipe changelog 29/10/2010
Spooky evening Wastelanders!
Halloween time is around and we're bringing you some small wipe info again! The Halloween event has been active since Monday. You can dress up as a ghost, grab your pumpkin bucket and hoard all the candies in the map again! 
There came one really unexpected event with it: WEATHER! The long awaited rain, snow, auroras, thunder storms and more are in! None of us expected this to be part of the Halloween patch but it was definitely a pleasant surprise!
However, let's see what to expect from this wipe down below!
Whoever follows our Discord has already probably heard the sad news that Rando left our team. He was unfortunately demotivated for a longer period of time and planned his departure for a longer time. However due difference of the opinions, our paths split much sooner than expected. I'm not gonna lie, it hasn't been easy time for anyone for us from the team and no matter how our ways did split, we will still miss him and his creations around. We're incredibly thankful for his hard work and appreciate his attempt to move Wasteland to another level with a good quality maps and last but not least really interesting places to explore.
I have decided to take the map making on my shoulders. It was really stressful time since I had to manage to learn everything important within the past two weeks to be able to bring the map on a decent level. I must say, the border line has been set quite high, but not unreachable.
This week you will see the first creation of mine, which will be re-used on the forced wipe as well. Original plan was to re-use the current map, however I'm unable to fix a few important bugs. I'm missing quite big amount of prefabs used in the map.
All important places and islands, are in the map as you always were used to! None of them are missing, however some have small changes so let's sum them up:
Town has been dressed up for the Halloween (you will find some spooky mood and decorations around for upcoming three weeks!)
Brand new Oil Refinery. We are missing the original RW Oil Refinery prefab but found and purchased a similar monument serving the same purpose. It isn't the final form and more will come in the future! What is new for the refinery besides new layout: 4 angry scientists, Green and Blue puzzle including also Elite crates, Radiation and of course Bradley!
Facility X code will NOT change during the wipe. The system has been simplified as we noticed, that it gives you hard time finding the codes in general. You will still need to find the pictograms though to enter the final code. Keep your eyes open and look in every possible corner 😉 
I've managed to build also my first place: Small underground tunnel. I'll be improving it for the future purposes so that it can be reused in the future. The placement of A51 made me do it as the things wouldn't make sense otherwise. Be sure to stop by and explore. it is a tiny spot but might hide secrets!
You will also find plenty of usual building places (ruins, barns, caves, etc.)
Other tiny bonuses to be found around!
We went through also very first custom maps we used more than 1.5 years ago and found some good inspiration in there as well so I hope that next weeks, I could manage to bring some more new stuff to keep it fresh and more interesting again 🙂
Since our team pretty much narrowed down last few weeks, we opened the applications for a brand new function: Chat mod. This is to reduce the load on the Staff members with getting a help of chat mods answering the most common questions and give us some place for other important tasks such as running the events, preparing the server for the wipe, map making etc. This way we would like to welcome Owen and PinkChicken our first two mods in our team! 🙂
All new recently added items have been added to the Instacraft and will now stack
Halloween items should now stack properly
Elevator will now stack  to 50
Wooden armor helmet will now stack to 100
Fog and Heavy fog commands were removed from the /s since the weather has now been implemented to the game.
Added all suggested skins to the Skinbox
We hope, that you enjoyed the new plot twist in the Fortress yesterday! Mira got some crazy idea which he made real. He worked really hard on the new building and we feel like it was another successful attempt!
Fastestshot: free Bronze membership, Quarry
brett567: Recycler
Vixente: Autorepair
Just_Klaas: Quarry
We hope you will enjoy the spooky time with all the changes! Have fun and see you all around in the naked world!
Don't forget! This wipe is only one week wipe!