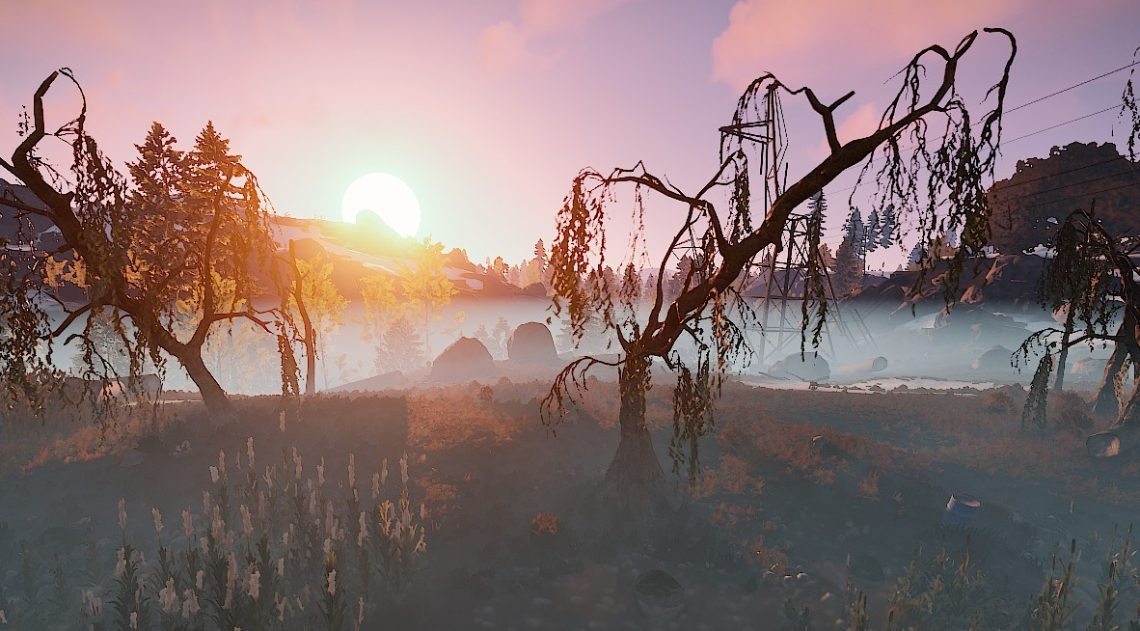 Wipe changelog 15/08/2019
Good morning Wastelanders!
Rusty Wasteland has celebrated second birthday just yesterday! We're incredibly happy that we managed to walk so far even though the times were not always the easiest. We would love to thank to all our previous players for putting down the stone to such awesome community, thank you to the current members keeping this community alive and fabulous! Big thank you belongs to our former developers who created our special plugins for us only and helped us in the biggest troubles. Huge thank you goes also to our former staff members for supporting us and helping to all of you and of course to our current staff as well! Countless thanks go also to all our supporters and donators. Without you all the server wouldn't exist at all!
This period of time gave us a lot of experiences and we hope that we can still stay for a while on the track! We are incredibly thankful for seeing the Vanilla 2x slowly growing day by day! 🙂
Today, Main and Building Vanilla 10x are being wiped. We hope that the new wipe is a fresh start for all of us! There are some really exciting changes coming and we hope you will be the same excited about them as we are. At the same time, we went through all the event suggestions from our Discord channel, wrote all of them down and we are going to see which events suggested by you we could use and especially, which ones we will see as first! There was plenty of awesome ideas which could bring some more variety in the schedules.
For a while we were thinking how to make the server more exciting again. We got questions from long term players pretty often, when are the Zombies coming back to the Airfield. The answer is simple… TODAY! We did some changes to the NPC's on our server with a little plot twist! Read the changes below:
No more one headshot health, NPC's are slightly stronger!
Zombies at Airfield are back! They spawn in double amount 3x faster than before!
All NPC's have a tiny chance to drop a weapon with a special skin
Added "Zombie Boss"! There spawns only one per biome (4 in whole map). They have 1000 HP and their respawn time is 30 minutes! Start the adventure of searching for them!
RP of Zombies was nerfed to 10 RP per kill since there is more zombies and smaller respawn time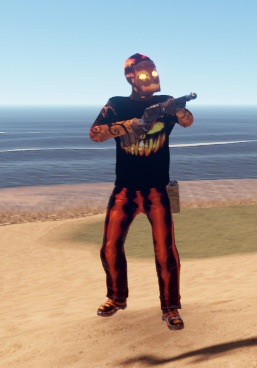 Automated mini events (Deathmatch) were disabled due the glitch abuse! The events will be still used but ONLY with the supervision of Staff with one simple requirement – Empty inventories. Your inventories will be checked before the event starts!
Added Chainsaw and Eoka deathmatch
Turrets & Scientists are back at the outpost (those were disabled due bug in killing players who have never entered the zone with the weapon at all)
Winning map is a 4.5k Barren map!
We hope you like those little changes! At the same time, you might have already seen our little newspaper we prepared together with Kyrie. If not, you should have a little read with clicking the download button below! We can already say now, next issue is already cooking up! 🙂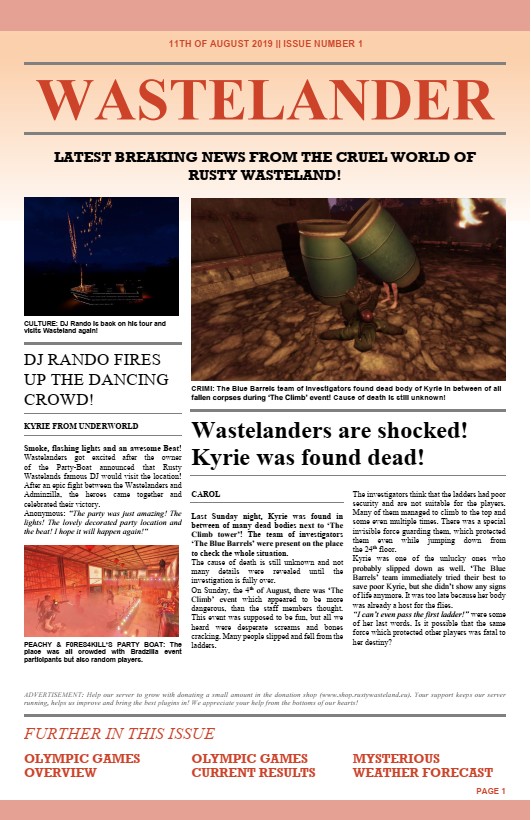 Current Olympic standings
We've got pretty many participants in our olympic games, but for now we share only the top 10! Some places are still shared, but all of you do really great job! 🙂
1 Danq_Defender
2 Peachy
3 Horus
4 Mustang
5 Alli3c4t
6 vexarius
6 FlatCap
6 SpeedingTurtle
9 f0rest4kill
10 smit2k
10 iamdecaptin
Enjoy the wipe and see you all around in the Wasteland! Don't forget, the next wipe will be a short one due 5 weeks cycle in between of forced wipes!