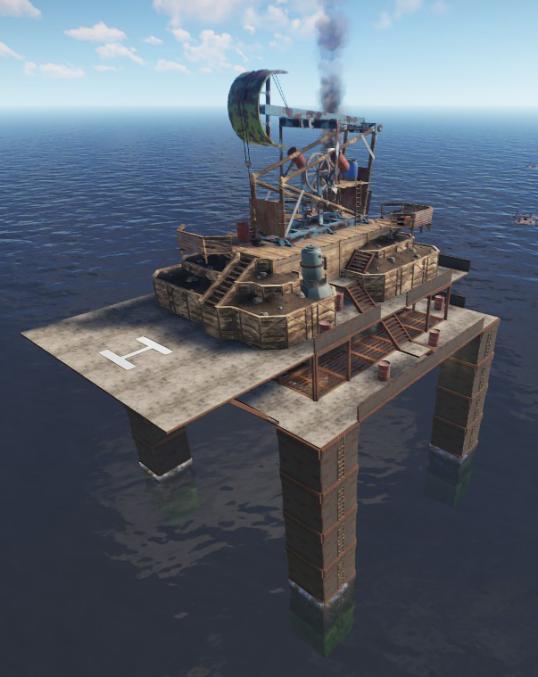 See you tonight on our new server!
A month, since the last wipe, has passed by really quickly and here we are waiting for the update over again! This time is the forced wipe really exciting for our server as we have lots of changes and new features coming tonight! We hope that you will like them.
The most important for us is to find the way how to fix the performance issues. As you know we keep struggling with the performance for longer period of time as our server has grown so fast. At this point, we would love to thank to everyone who decided to support our server with all your awesome amounts of money. It means really a lot to us (no matter if it was just 1€ or 100 every penny counts and helps more than you think)! We have been thinking for long time how to improve the performance and after upgrading our current server we decided to switch to our own dedicated server!
Please note that since the wipe that is coming tonight you will find us on new IP address: 

188.165.252.47:28015
The previous one will still work for some time giving you notifications that we moved somewhere else but no staff will be present there to help you out with troubles and struggles. Please keep it in mind and be sure that you join us on the new address! New server promises us better and faster performance so we hope that this is the days when our second name – Lag – is ending! You will find the new address also on our Discord, Facebook or on the voting websites. At the moment it is still inactive but will be live tonight!
Besides of this awesome big news we are changing still a few important features:
Server will now restart only once per day  at 3am CET (GTM +1)
To test the server performance right away, we've increased the building limit back to 100 foundations and 6 floors per base
3 days purge has been put back to 5 days (120 real life hours)
Voting for the server will be possible only on the Rust-servers.net for now until other voting websites work. You will get your airdrop supply after 3 votes
Throwing a supply signal will get a cooldown of 2.5 minutes. We would like to prevent the lag due too many airplanes but as well make the game one step harder. Lots of players get all items within a few hours since the  wipe and then leave because they don't have anything else to do.
To keep you a bit more busy, we've got a brand new plugin for an Oil rig event. An Pump jack platform will spawn in the sea and will provide you some good loot and also fun. Be sure you are quick because it might get really dangerous! 🙂
We tweaked the RP shop last weeks and added lots of new items that are possible to buy for your RP. This wipe we are bringing three new items – a camera (allows you to take a snapshot of your game like if you had a camera just with one mouse click and saves in your steam library), survey charges (what this might mean?! 😉 )… yes! The last item is a mining quarry! We are bringing them back to the game and you can buy them from your RP. But be aware of the fact, that this fancy object isn't for poor people 😉
We are leaving an "autodoor" plugin out for now. Your door will no longer close automatically so be careful that no one sneaks in! Also the /ad command won't be needed anymore if you are keeping the door open for others. Instead you should be able to find a Door Closer item in the crates around the world!
Zombies will keep roaming through full map as the last two weeks
We also changed a few server rules:
In whole map, there spawns 64 boats. We noticed that some players hold 2 – 4 in their boat houses so no new boats spawn at all so other players have no chance to use a boat at all. The rule of holding only one boat seemed to work because we saw many boats spawning around. Thank you for keeping it in mind and we hope you will do so also in the future!
Bradley APC spawns randomly once in hour as everyone knows. Some players wanted him only for themselves so we end up with numbers like 10 kills per clan which we don't feel is really fair towards others also not sharing loot etc. Our developer created a new plugin which we've already tested this wipe live. It allows us to see who did the highest damage and who should be the owner of the loot then. Please note that we are really strict at Bradley and we check the fights to see how fair they are. Sometimes even like this we run into troubles but we would like you to know that you shouldn't kill it more than 3 times per day to give other players chance! Try to keep it in mind, there will be much more to do since now (Oil Rig for instance) so give other chance to play a booming party as well! In the future we might get similar plugin for a Helicopter.
The "pump/quarry" rule is back. Please don't leave those unattended and stay with them or in really close distance if you don't want to loose your resources! Some people take our rules very seriously and don't understand your intention of "leaving them running for others" and they are scared to break the rules, other ones take everything regardless your good intentions. Stay with the pump or mining quarry otherwise your resources will be removed without a warning!
No more "territory" marking around your base! This rule we already added last wipe but we didn't post it officially yet. Please don't build one square boxes with a toolbox and resources around your base to set your territory like a cat. We made this server to be a friendly PVE server and no fight for "who has more". Everyone should be equal! If we see those, they will be removed without warning!