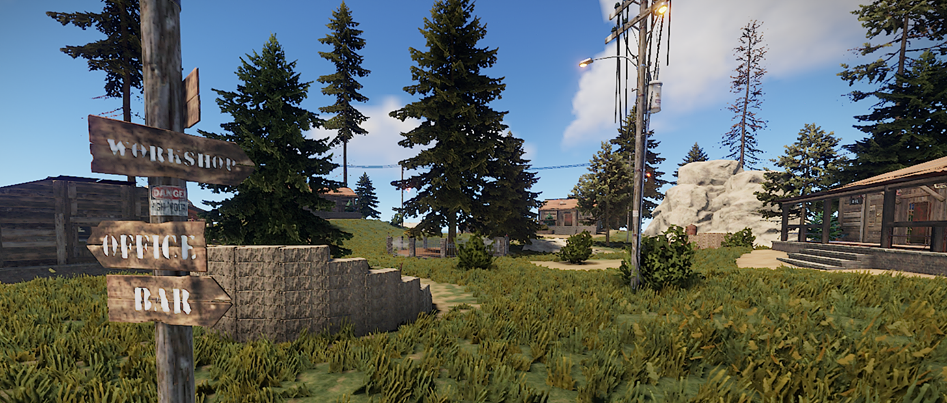 Wipe changelog 04/02/2021
Good evening Wastelanders!
What a crazy month! Thanks to all new players who stopped by to play around and have fun with us! January was the new milestone for our server and we topped many of our personal records which we have never expected them to happen! With your support we do bring you also some first stage of good quality changes but let's start from the top!
I did attempt to create a new map again. I'm really nervous about that knowing all of our previous issues, I'm not going to lie. This map is prepared more as a "safe version" and rather minimalistic so we can continue in the debugging. The fully custom map didn't bring any strange issues, so it might bring finally some answers at this point.
Map is bigger than ever as we did expect many people to join, next wipe we will most likely go down to 4500 again, this wipe we will test the 5000 size. Most importantly, some of the custom monuments are back.
Area51 – yes… in the coat you all know it! No changes at all!
Original Oil Refinery is back! I did ask Rando for the prefab and did implement it in the map that is going in tonight! Of course as always with Bradley included!
Outpost is replaced by our Town again. I did add a few updates in there to make the orientation slightly easier.
Custom Supermarket, Gas Station and Warehouse to replace one of the FP ones and make it a bit more interesting.
SnowLab found its place as well!
Added also two sets of the compound islands! Please remember, the rules remain the same: One island per team/clan only! You are free to fully wall the island off and freely "landclaim" the area.
This map does NOT have any custom caves, ruins or barns. This is rather a "try out map" than the real map as you are used to.
Excavator is included as well and is not replaced by any custom monuments, so that you can still use your diesel fuel!
Includes 4 Bradleys to give everyone a fair chance for their kill and reduce the camping!
Launch Site is back again, so feel free to spend your Bradzilla keys that you collected throughout the last wipe! 🙂
Airfield is more dangerous than ever! Bots got Pythons to tickle the challenge a little bit!
In case you experience any strange stuff going on with your base such as crumbling or disappearing, or wake up randomly under the map after you connect, please let us IMMEDIATELY know in a ticket on the Discord, so that we can take the actions right away and investigate.
Thanks to your generous donations last wipe, we did hire one of the Rust plugin developers to do some fixes for us. As we all know, Operator is unfortunately extremely busy and most of the time unavailable at the moment, however some of the fixes and issues start to become really severe.
We did invest quite good money into fixing many issues on the Bradley plugin. There was a few commands, that stopped working and various errors appearing which you as players maybe don't see, but we found them quite important to get them fixed.
Since now:
/bradlb (shows Bradley leaderboard) works again!
/bradleydmg is back as well!
Bradzilla should no longer lose the link with the caller on the crash so it does not require a staff removing the Bradzilla which roams around and can't be killed. If you notice this feature not working properly, please let us know!
Various errors both on Bradley and Bradzilla fixed
Camp timer was even more randomized due rumors that were spread last few days. The exact time won't be revealed. Be careful and don't get into the troubles 😉
There is still a few small changes and fixes we would like to add into this plugin, however it's a really good start for us to have a few problems fixed. We do plan next good quality fixes for the future as well and we hope we would be able to bring them with the upcoming map wipe.
Other various updates in different plugins to stabilize the performance
New starter kit – Valentine's themed
Added most of the suggested skins to the skinbox, though a few of them we will attempt to add after the wipe over again as they did not work for some reason.
The limit of 50 planters per player remains! This was definitely not an easy change and we really don't like doing them mid wipe, though we really had to stop this behavior. We ask you to be a little bit thoughtful and do NOT create an unnecessary lag for yourself and for others!
We hope the new wipe brings new opportunities and gives us some answers to the unresolved mysteries. We hope to bring the same good quality update with the upcoming wipe as well. Thank you all for your support and your help in server development! 🙂
See you all in the naked world!